(Clic on the picture above to see the whole photoset – Cliquez sur l'image au dessus pour voir la serie en entier)
Je poste pas a chaque concert, mais la j'ai fait une decouverte symachouette et je tenais a la partager 🙂 ! Beaucoup de gens sur scene, c'est une des particularites de ce groupe, 16 ce soir la, ils sont 30 au total. Une ambiance survoltée, des ballons et des confettis dans tout les sens, des choristes qui "jouaient" avec les photographes ! Comme j'avais du mal a faire des portraits de tout le monde, j'ai tent le grand angle ! Je me suis bien amusé, j'ai imprimé ma preferée du concert (merci kim) et ca sera vite accroché ! Et comme d'hab j'ai shoote pour FroggyDelight et une vraie chronique du concert se trouve ici : chronique
I'm not posting after each concert but this time I discovered something rather incredible. This group had 16 members on the stage and they can be up to 30! An incredible atmosphere at the Bataclan tonight, balloons and confetti flying everywhere and people singing and dancing all around the place. The band really played the game with the photographers and even though some ballons got thrown in my face they were looking at me, giving me various faces and moods. I tried to use the wide-angle (what else with 16 persons on stage). The image on top of this article (not the large one, the group one) has been printed in 30×60. My favourite concert image I've ever done so far. As usual I was shooting for FroggyDelight and for the french speaking folks you can read the whole concert review HERE.
I randomly discovered myself on this picture taken by DPC 13 the same night.
J'ai eu la surprise de me découvrir par hasard sur la photo de DPC 13 :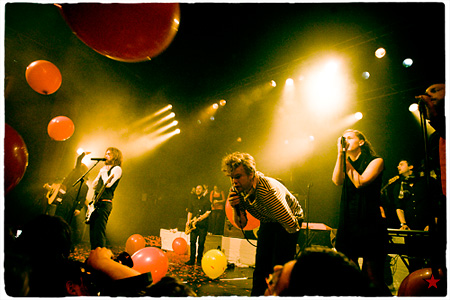 I'm in the left bottom corner. Check out his website and his pictures from that night, he's a rad show photographer.
Je suis dans le coin en bas a gauche. N'hesitez pas a visiter son site (et sa galerie de ce concert) c'est un photographe de concert super talentueux !